【Incentive Project】National Chung Hsing University Proposal for the Improvement of Students' English-language Proficiency
【Incentive Project】National Chung Hsing University Proposal for the Improvement of Students' English-language Proficiency
Date of Publication:2023-07-13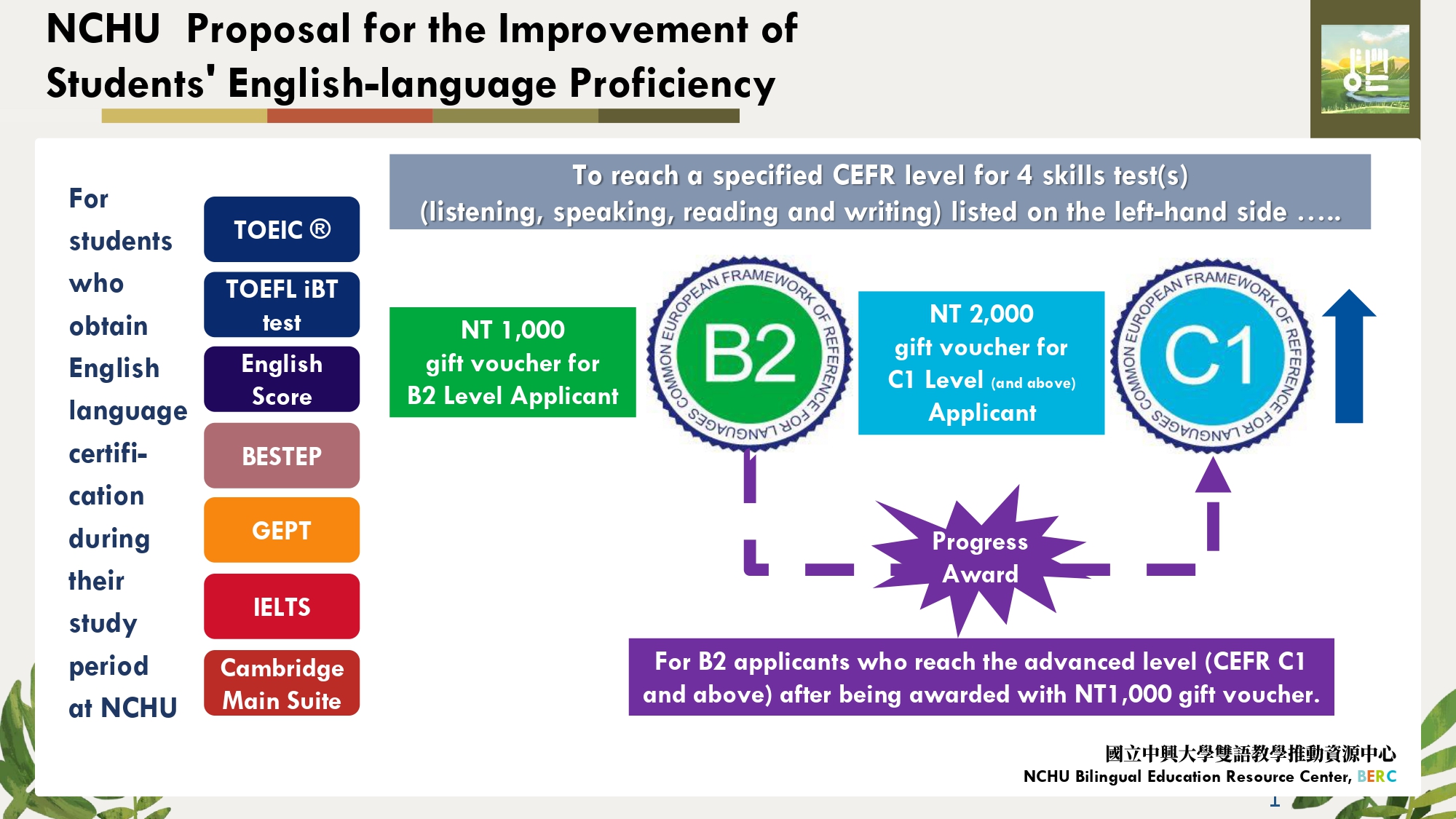 【Article 1】Purpose
This proposal is formulated to enhance students' English Listening, Speaking, Reading and Writing skills and encourage them to obtain credible English language certification.

【Article 2】Object: Current Students at NCHU.

【Article 3】Implemented by: Bilingual Education Resource Center (BERC), NCHU.

【Article 4】Implementation

1. In accordance with "English Proficiency Tests Comparison Table & CEFR in 4 skills tests" (see Appendix), the following awards will be provided to students who reach a specified CEFR level for 4 skills (listening, speaking, reading and writing) in English proficiency tests taken during their study period:

(1) Students who reach the upper intermediate level (CEFR B2) can be awarded with a NT 1,000 gift voucher.

(2) Students who reach the advanced level (CEFR C1 and above) can be awarded with a NT 2,000 gift voucher.

(3) Progress Award: Students who meet the requirement of (1) and be awarded with a NT 1,000 gift voucher, can apply for another NT 1,000 gift voucher as "Progress Award" if they reach the advanced level (CEFR C1 and above) afterwards.

​ 2. Application Period: From Jan. 1st to Oct. 31st every year.

(
The application in 2023 has been closed.
Students are welcome to continue to improve their English proficiency and take the test, and apply in 2024
)
【
download the award application form; you may submit your application to our office or
convert your form into PDF and send it via:
lys11@nchu.edu.tw
with email subject line as follows:
English-language Proficiency Award
_Student Name_Student ID
】



【Article 5】Each level of award can only be applied once.

【Article 6】For those who have received identical awards from departments, colleges and offices within NCHU, BERC will not provide any overlapping awards.

【Article 7】The rewards are supported from the Strive for Higher Education Sprout Project budget.

【Article 8】The regulations become effective after being approved by the President. The same applies to all subsequent amendments.